Play EuroMillions online from anywhere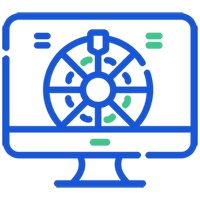 If you want to play EuroMillions online, it is first important that you choose a reputable online provider, such as LotoKing. Once you've decided, you can register for the next upcoming draw and fill out a ticket. For this you have to enter your basic personal data – such as name, address and date of birth. Once you've signed up, you're good to go.
On your digital game slip, which is a 1:1 copy of the original game slip, you can now enter your numbers with a click and select additional games if you wish. The payment for the lottery ticket is then carried out. Your task is now complete for you. The provider will then collect the lottery ticket on your behalf and you will receive a copy of it by email.
EuroMillions draws and results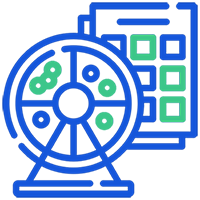 The EuroMillions game has also become a popular lottery game online, and more and more people are enjoying it. A total of six betting fields with numbers between 1 and 50 are available on the betting slip. You can now select a total of five numbers from this collection. As soon as you have marked these, you can select further additional numbers – which are called star numbers in the EuroMillions lottery – if you wish. These are made up of numbers between 1 and 12. Basically, the draws for the EuroMillions lottery always take place on Tuesdays and Fridays. The draw is identical for all participating countries.
Play and win the EuroMillions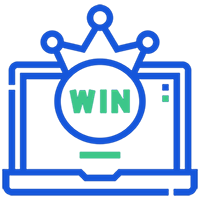 From a technical point of view, only one lottery player can win per completed EuroMillions lottery ticket. If you take part in a syndicate, there are special legal agreements that have to be defined in advance and that determine how the profit is divided among the individual participants in the event of a win.
You have a total of 180 days to contact the lottery if you win and to claim your prize. If you miss this deadline, that entitlement will be forfeited and the money will instead be donated, such as to a charity. On average, around 28 percent of all game sets are donated to charities. If you take part in the EuroMillions lottery, try to check your tickets as soon as possible. If you are unable to take part in the live draw, you can access it online on various websites.
You can take part in a single draw and play EuroMillions , plan several draws in advance or – if you play online – take out a lottery subscription in which you automatically take part. If you would like to take part in several draws in the EuroMillions lottery, you must tick the relevant boxes on your lottery ticket . Of course, this also increases your chances of winning.
EuroMillions jackpots start at €17 million and can currently rise to a maximum of €220 million. If no winner is placed in the first prize category, the sum from the jackpot goes into the next EuroMillions lottery draw. If there is still no winner in this category, the sum will be divided among the players in prize class 2 or even lower classes.
Overall, the EuroMillions lottery consists of a winning system with 13 levels. If you guess all numbers and star numbers correctly with your ticket, you win the top jackpot. On average, around every 13th tip wins a prize in the lottery.
EuroMillions facts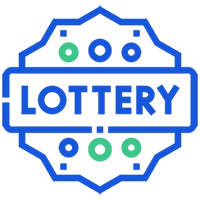 The EuroMillions lottery was founded in 2004 and is now played by many hundreds of thousands of participants in numerous European countries. The EuroMillions lottery is now the largest lottery pot in Europe with a maximum prize pool of up to 250 million euros! And even if it isn't full, it's worth it if you hit the bull's eye with your betting slip: Because on every single matchday there are no less than 17 million euros in prize class 1. There are always special days on which a super jackpot is played, where you can sometimes play for 130 million euros.
The highest EuroMillions lottery win to date was a whopping 190 million euros and was won on August 12, 2012 by two British participants. The highest prize that was paid out in British pounds was the equivalent of around 185 million euros and was paid out in 2011.
Here, too, superfluous keyword (must be inserted in exactly the same way for submission – unfortunately I don't know exactly what to do with it): Play EuroMillions online Country.
How to play EuroMillions
You need to pick 5 numbers from 1 to 50 and two Lucky Star numbers from 1 to 12. All 7 numbers have to be picked correctly to claim the jackpot, but only 2 correct picks already entitle you to receive a minimum prize in EuroMillions.
Tips for EuroMillions
Wondering which numbers you should pick? Check the results of the past draws to see which numbers have been drawn most frequently and use them to fill your ticket. You can also use your own lucky numbers, like important dates. You can also go for blind luck and pick the numbers at random, using our quick-pick tool.